Established to continue Mimie's lifelong legacy of promoting Chinese culture in our Canadian multicultural fabric.
Madame Maria Mimie Ho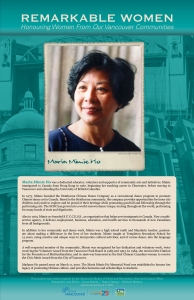 During her lifetime, Maria was a dedicated dance teacher, school teacher, artistic director and community leader.
Mimie was born in Macau, China and grew up in Hong Kong. She immigrated to Canada in 1967 and taught elementary school in Clearwater, BC.  She later moved to Vancouver and attended the University of British Columbia where she received degrees in Science and Education.  Mimie quickly became part of the community and helped organize events and programs that would educate others about the Chinese culture.
In 1973, Strathcona Chinese Dance Company (SCDC) was founded by Mimie Ho as a recreational dance program to promote Chinese dance art and grew to be a world-renowned dance troupe.  For 37 years, Mimie dedicated and volunteered herself to the education of youth through the teaching of Chinese Dance.  She was a well-known and highly regarded dance educator, who was often invited to be the guest speaker at many folk art conferences worldwide. Her company, SCDC, toured North America, Asia and Europe, actively promoting Chinese dance and culture throughout the world.
Along with other members of the Chinese community, Mimie founded, S.U.C.C.E.S.S., an organization devoted to transitioning new immigrants to Canada.  She also helped to establish the Chinese Cultural Centre in Vancouver's Chinatown.  She was a pioneer who helped forge the way for many prominent cultural organizations and was greatly respected for doing so.
In 1997, the Vancouver City Council unanimously voted to award her the Civic Merit Award for her achievement in arts and culture. She received numerous other awards for her community contributions including a Certificate of Merit from the Prime Minister in 1988 and a Certificate of Appreciation from Mayor Gregor Robertson in 2010.  Mimie played a pivotal role in the development of the Chinese Community in the Vancouver and the Lower Mainland from the late 60s till her passing in 2010.
In addition to her work in the community and dance world, Mimie continued her school teaching career.  For 13 years Mimie taught high school Math and Mandarin  at Templeton Secondary School, where she coached the Templeton Dragon Dance Team and was passionate about making a difference in the lives of her students.
Maria Mimie Ho passed away on March 11, 2010.  Mimie's legacy will be all the people, students and dancers she has touched and taught.  Her vibrant spirit and generous nature never wavered and affected the lives of her friends, family and students.  Throughout her lifetime her ardent dedication to educating and giving back to younger generations was unwavering.
In 2011 Mimie was given the Remarkable Women Distinction by the City of Vancouver which honours women from the Vancouver community.